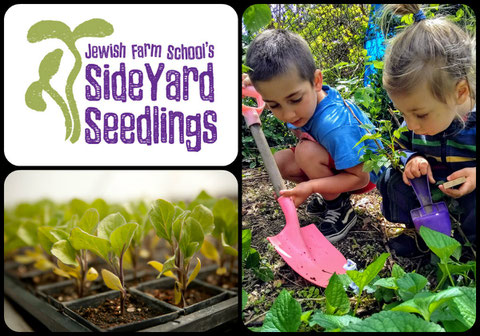 JFS Side Yard Seedlings is a new garden-based early childhood program launching in spring of 2018 and engaging children ages 2-6 and their caregivers through Jewish garden-based education.
Children and their caregivers will gather at the Jewish Farm School garden at 50th and Cedar in West Philadelphia for a 90 minute experience which includes caring for plants, nature-based crafts, song sessions, stories, and age-appropriate games and activities connected to the cycles of the seasons and the themes of the Hebrew calendar.  
Cost
Tickets are $12 for families with one child and $18 for families with two or more children. Our doors are open to everyone, so if finances are a barrier for you, please email rowan@jewishfarmschool.org.
Program Details and Family Guidelines
Click here to learn more about what a typical session will be like and how to best prepare for a positive experience.
Session 6: Hebrew Scribes
Sunday, August 19; 10-11:30AM
Did you know that it's a mitzvah (good deed) to help write a Torah scroll? We'll use berries to make ink, explore Hebrew letters with natural materials and our bodies, and write with quills made from feathers. As always, we'll have plenty of singing, reading, digging, and exploring in the garden. 

Join our Side Yard Seedlings email list to stay informed about upcoming sessions and other family friendly events.
Side Yard Seedlings is made possible with the support of
PJ Library and is run in partnership with jkidphilly.