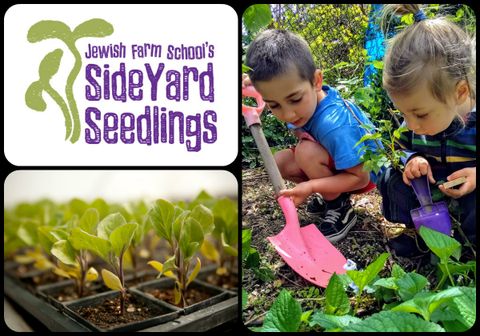 Program Details
Side Yard Seedling's curriculum supports families in engaging with the seasons, Judaism, nature, and food. In each session, we provide several opportunities that allow kids to launch and direct their own play and learning with the support of their favorite adults. While each session will follow the same basic structure, we'll focus on different skills throughout the year: gardening, cooking, natural awareness, Jewish rituals, problem solving, collaboration, and Jewish values. 
Typical Session
| | |
| --- | --- |
| 15 minutes | Arrive into Choice Time: Choose between two activities or explore the garden |
| 15 minutes  | Opening Circle: Read books, sing songs, and learn about our theme  |
| 40 minutes | Exploration: Hands on explorations with plants, cooking, or crafts |
| 10 minutes | Closing Circle: Sing a song and share what we've explored |
| 10 minutes | Schmooze and Snack: Grab a snack, chat with other families, or just play! |
Family Guidelines
We've included some guidelines to help your family have a powerful and successful experience with Side Yard Seedlings: 
Prepare for the Weather (and Hungry Kids!) 
Side Yard Seedlings is about getting out in nature, which means mud, rain, heat, and cold.
We recommend that you bring:
Water bottles, bug spray, and sunscreen for hot weather
Warm clothing in layers for cold weather
Raincoats and umbrellas for rainy weather
Clothes that can get muddy all the time.
We will reschedule events in the case of thunderstorms (you'll receive an email in advance), but for light rain we'll experience nature's cycles by getting wet! 
We also know that hungry kids can't do their best exploring, so we invite you to bring vegetarian snacks to eat at any point during the session. (We'll also have snacks available during our schmooze at the end.)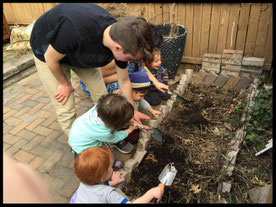 Learn With and From Your Children
Side Yard Seedlings is a program for children to explore with their adults, which means playing a few different (and important!) roles. During our opening and closing circles, you can support your children by participating in the books, songs, movements, and conversations. 
During our open explorations, we encourage you to follow your child's lead, beginning by observing: Are they looking for a way to get involved or already absorbed in playing? Do they need help chopping fruit or are they proud of their independence? Are they ready for a conversation or immersed in a sensory experience? Then, consider our ideas for getting involved and choose the options that are right for your family. 
Most importantly, don't worry about doing everything. If you're itching to try the craft options, but your child's having an valuable sensory experience digging in the dirt, pick up a shovel! You're welcome to take craft materials home to do with your kids later in the week. 
Build Community
Our programs provide a great opportunity to make friends with other families, share ideas about Jewish and nature-based parenting, and set up play dates. We've intentionally scheduled our last 10-15 minutes for families to schmooze. We invite you to stick around to chat while your children continue with their projects or play in the garden.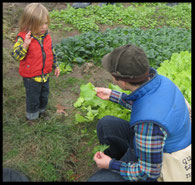 Help Develop Respect for
Natural Spaces
One of our goals is helping children to protect natural beauty and recognize its potential to make sacred spaces.
To protect the Jewish Farm School space and the other families using it, we ask you to help your children follow these guidelines: 
Respect the plants that give us food. Pick fruits and herbs only from the designated beds. Teach your children to pick ripe fruit and pull off only one herb leaf at a time. 
Let growing things grow! Do not pull up any living grass or leaves (unless we're weeding!) Put insects and worms back where you found them. 
Use rocks, sticks, and tools to create, not destroy. We encourage activities like throwing rocks to hear the sounds they make or smacking puddles with a stick, but only after making sure that our space and friends will be safe. 
Be Open to a Diversity of Jewish Traditions and Experiences
Jewish Farm School is a pluralistic organization. Our program welcomes families with a diversity of Jewish backgrounds and experiences. However your family practices Judaism, and whatever amount of Jewish knowledge you have, is just right! We will learn about some Jewish traditions, including Hebrew components, with an emphasis on understanding what they mean and why we choose to do them. If they are new to you, this is an opportunity to learn alongside your children, and if they are already familiar this is a chance to look with fresh eyes. We encourage you to be open-minded as you encounter customs that are different from your own, and use this as a launching point for conversations with other families and your children. 
We will serve vegetarian foods only (including milk, eggs, and honey). They will be prepared in a vegetarian, but not strictly kosher, kitchen. We will aim to provide snacks with a hechsher (kosher symbol) when we serve pre-packaged foods (crackers, juice, etc.). As always, you are welcome to bring snacks for your child to eat at any time during the program.  
Let Us Know What You Need 
Every child and every family learns differently. Please let us know if you need accommodations for your family to fully participate, or if you have suggestions for next time. You can always check in, share ideas, or get information from Rowan at  rowan@jewishfarmschool.org.