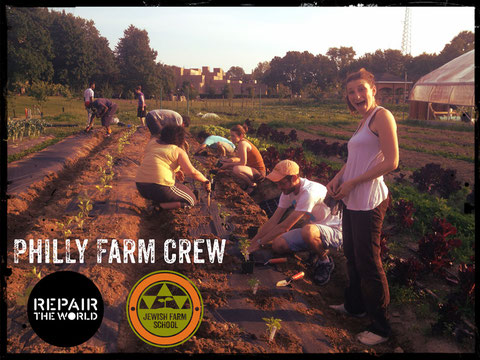 Philly Farm Crew
Philly Farm Crew is a joint program of Jewish Farm School and Repair the World. The program aims to support urban farmers in Philadelphia by coordinating and recruiting adult volunteers to assist with urban farm work. Philly Farm Crew focuses on engaging people in community-centered volunteering and providing space for experiential food justice education.
Sign up for a volunteer day, learn hands-on about gardening, urban farming and food justice, and meet some awesome people along the way!
Summer 2019 Farm Crews Will be Announced Soon!

Group Request Form
Are you interested in setting up a Philly Farm Crew for a group of volunteers? If so, please fill out the Group Request Form. Please Note: Philly Farm Crew is designed for adults. Occasionally we will work with older teen groups. 

Philly Farm Crew Newsletter
Never miss a Farm Crew! Sign up for our newsletter and we'll keep you posted with a weekly update of upcoming farm crews.

Philly Farm Crew Facebook Group
Check out our Farm Crew Facebook group to connect with other volunteers and to stay in the loop throughout the season.